A few tips to to keep your shoes in great shape!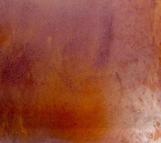 LEATHER SHOES
Leather shoes must be brushed off after each use and shoe trees must be used for at least until the shoes is "dry". When you decide to polish your shoes, laces must be removed and the shoes should be brushed off to remove any dust and residues.
After they have been brushed, shoes should be cleaned, left to dry on a cedar shoe tree, and then polished and conditioned. Be sure to follow the instructions for use on the selected shoe polish to avoid any residue being left behind. For a quick scuff cover up, the scuff can be coloured in with a matching crayon. However, this is a temporary fix and not a long-term solution.
Use leather conditioner (I recommend
Saphir Renovateur
/Mink Oil Cleaner/Conditioner/Moisturiser: Renovateur's milk-oil base is very nourishing, providing fine leathers with the essential nutrients they need to breath, while preventing any dry-out).
I strongly recommend putting steel toecaps on your shoes (see below) as this will protect the front part of the sole.
Tips for maintenance:
Use cedar shoe trees. Cedar draws the moisture out of your shoes after a day's wear and maintain the shoe's natural shape.
Rotate! Never wear the same pair two days in a row; let your shoes breath at least 24 hours before wearing them again.
Always use a shoe horn to put on your shoes!
Clean your shoes on a regular basis.
Use shoe bags to store your shoes.
For Shell Cordovan leather please look at this
page
---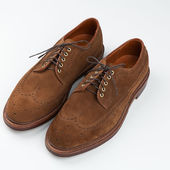 SUEDE SHOES
Treat the shoes with a water repellent (I recommend using
Tarrago Nano Protector
) and use a rubber brush or a suede bar. Use the bar damp to clean and condition, and use the brush to lift the fibres upwards. Regularly brush dust and lighter stains from the shoes every time they are worn. In case the suede becomes damp, dry the suede with a cotton cloth and let them dry for a few hours. Do not sun-dry! Use talcum powder as an absorbent for oily stains. If the suede is damaged and the stains cannot be removed check with your local cobbler!