Shoes every man should own ...

Alden Medallion Cap Toe in Black Shell Cordovan
Oxfords
The black Cap-Toe Oxford is no doubt the most formal evening shoe, however in brown or Cordovan a very elegant day-time shoe as well. These will work for your dressier moments every time!
An Oxford is a style of laced shoe characterised by shoelace eyelet tabs that are stitched underneath the vamp, a construction method that is also sometimes referred to as "closed lacing". Oxfords first appeared in Scotland and Ireland, where they are occasionally called Balmorals after the Queen's castle in Scotland, Balmoral. Most shoe stores in the U.S. will refer to Oxfords as bal-type opposed to Blucher-type. In France, Oxfords are better known under the name of Richelieu.

There are many other styles of Cap Toe Oxford's as can be seen below ...


---
---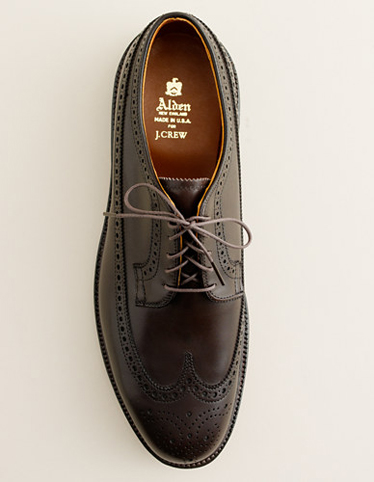 Longwings
Perfect with everything from jeans to suits, and appropriate for everything but formal occasions and (very) important meetings with (relatively) conservative business partners.

Some more examples below ...

---
---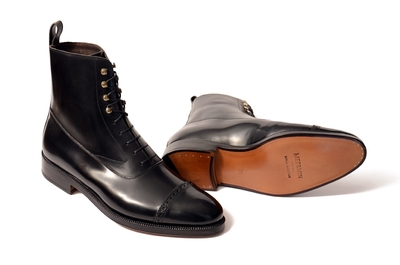 Dress Boots
Every many should own at least one dress (or City) boot! One of my favourites is the Meermin Balmoral Black Cordovan Boot as see in the picture to your left.

Paired with a blue or grey suit, you will be the talk of the town (or the office!)

Some of my other personal favourites are shown below ...



---
---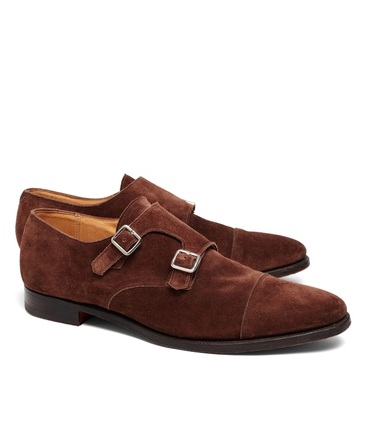 Peal and Co Double Monk Straps (Brooks Brothers) in Brown Suede
Monk Straps
A monk shoe is a style of shoe with no lacing, closed by a single or double buckle and strap. It is a moderately formal shoe: less formal than a full Oxford (American: Balmoral); but more so than an open Derby (American: Blucher). In between these, it is one of the main categories of men's shoes. It often has a cap toe, is occasionally brogued, and is popular in suede.

Monk Strap shoes offer great personality without laces!

---
---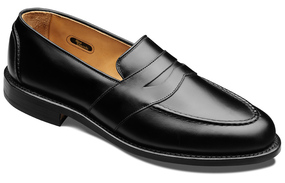 (Penny) Loafers or slip-ons
In shell cordovan, calf leather or suede the Penny Loafer is a more casual shoe.
Loafers or slips-ons are typically low, lace-less shoes. The style most commonly seen, known as a
loafer
or slippers in American culture, has a moccasin construction. One design was introduced in London by
Wildsmith Shoes
called the Wildsmith Loafer and began as casual shoes, increasing in popularity to the point of being worn in America with city suits. Another design was introduced as Aurlandskoen (the
Aurland
Shoe) in Norway (early 20th century).
They are worn in many situations in a variety of colours and designs, often featuring tassels on the front, or metal decorations (the 'Gucci' loafer).
---
---
The Spectator (or Correspondent) shoe

Perhaps not for everyone or for every day, but nothing complements a Spring or Summer wardrobe as charmingly as the muted browns, tans or creams of the two-tone Spectator. For your Spring suits, Summer whites or Fall khakis the Spectator Oxford or Derby is the finishing touch, one of the earliest remaining styles, endorsed by a hundred year of tradition.

The Spectator shoe (British English: Co-respondent shoe) is a style of low-heeled, oxford, semi-brogue or full brogue constructed from two contrasting colours, typically having the toe and heel cap and sometimes the lace panels in a darker colour than the main body of the shoe.This style of shoe dates from the nineteenth century but reached the height of popularity during the 1920s and 1930s.
Source: Wikipedia

---
---