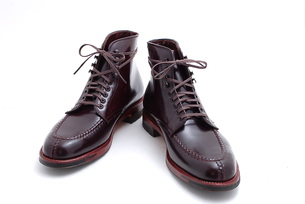 Cost: $720
Last: Barrie
Material: Shell Cordovan
Color: Color 8
Sole: Commando
Welt: Goodyear 360



The astounding Alden x Leffot Tanker boot in Color 8 Horween Shell Cordovan ... an amazing boot perfect for those colder days in the city or more casually.

The Alden Tanker aka NST boot is an incredibly beautiful, versatile, and durable shoe. With commando soles and hand-sewn split toe, it's both aesthetically pleasing and highly practical. Wear these with anything from jeans to a sport coat, and you'll look sharp and comfortable year round.