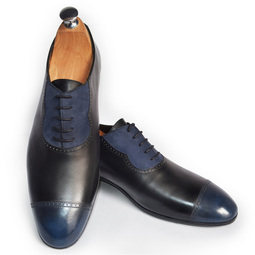 Jacques et Déméter Night Blue Oxford (calf & suede)
Whilst browsing Tumblr, I discovered Jacques et Déméter shoes! I have placed an order for this beautiful 100% Made in France Oxford and will post back when received and tested!

About Jacques & Déméter:
Jacques: "Classic and historical French first name. Great Jacques marked the history of France. For example, behind the big house of high jewellery Chaumet, place Vendôme, hides, originally, a certain Jacques. There is also the great navigator and French explorer Jacques Cartier who discover the land of Quebec. Or the famous poet Jacques Prévert".
Déméter: "In Greek mythology, Demeter is goddess of harvest and earth. Despite having been invited to join mount Olympus she prefers to stay on the Earth. She symbolizes rebirth through seasons cycles or earth fertility promise for the future of mankind. His worship is very important from ancient Greece to Sicily".

Jacques & Demeter is a couple who attaches importance to the holding of one another. A typical French couple, with Parisian elegance. Demeter like to suggest and offer beautiful pieces to Jacques, and it does not fail to reciprocate. This is to satisfy all these demanding couples that Jacques & Demeter made ​​the bet of a shoes collection for him and her. The universe is mixed and with timeless elegance. Some may appropriate items from the men's collection, others will enjoy elegant shoes for their demanding feet and those of their partner or companion. The mask becomes their emblem behind which they pursue their passion with commitment to offer the finest shoes handmade in France.

---
Night Blue Oxfords calf / suede

100% leather Oxford made in France.
Blake sewn assembly
Black box-calf leather
Night blue calf and suede uppers
Cap toe - full grain calf leather in night blue night
Black calfskin lining
Genuine leather sole (made in France)